Using Citation Generators Responsibly
"Citation generators are programs that turn information about a source into a citation that the writer can use in a project. Though many different citation generators exist, most follow this general process:
The generator receives information about a source. Usually, this comes from the user: he or she types the source's author, title, publication date, and so on.

The generator processes this information according to settings the user has specified (e.g., the citation style and the medium). This usually means putting the pieces of information received in Step 1 into the correct order and applying the correct formatting.

The generator produces a citation (or set of citations) that the user can use. This usually takes the form of text that a user can copy and paste into a project.
The diagram below illustrates this pattern.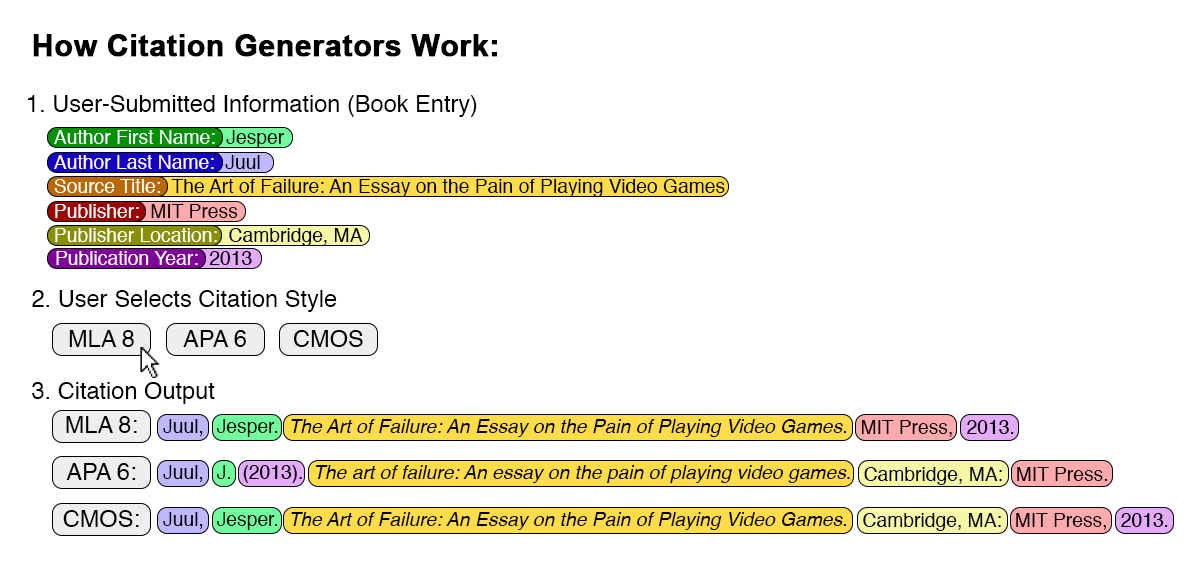 Citation generators can be very sophisticated. Some offer additional features not described above. For instance, some generators can automatically locate sources in online databases and fill out entire citations with just a little bit of starting information—the source's title, for instance. Other citation generators can automatically fix spelling or capitalization errors that the user makes when inputting the source's information.
What's important to realize, however, is that citation generators rely on the user's input and follow set patterns. Citation generators cannot exercise any judgment of their own. They do not "understand" the task of citation in the way that humans do. They can only follow instructions given to them by their users and their programmers.
Thus, writers who use citation generators as if they were definitive authorities (rather than powerful tools) can expose themselves to problems. They may give citation generators inaccurate information (and thus receive incorrect citations) under the incorrect assumption that the generator can "sort out" any errors. They may use citations in ways that don't make sense because they assume that as long as they have received the "correct" citation from the generator, any usage of this citation is valid. They may simply not think to double-check the citations they receive, and thus miss the occasional errors that even well-designed citation generators can make.
In short, relying entirely on citation generators rather than on one's judgment as a writer can lead to errors. Below are a set of suggestions that can help you use citation generators wisely."
For more information about citation generators go to https://owl.purdue.edu/owl/research_and_citation/using_citation_machines_responsibly.html
Using Citation Generators Responsibly. Purdue University, https://owl.purdue.edu/owl/research_and_citation/using_citation_machines_responsibly.html. Accessed 21 November 2019.